About the itinerary
I just came back from Vegas last night, and I was going to write a travel note that just came out. I saw a one-sentence Thailand travel note in the draft box (saved in 2014…), it seems that I have to urge myself to finish writing this Otherwise, my procrastination would last for several years . Coordinates Toronto , Canada.
At that time, I was holding a student visa, so the US visa was very easy to handle. It was easy to get a 10-year visa. Just register on evus before departure. There are many places with very detailed information about the US visa, so I won't go into details. I asked for 4 days of vacation, and there were 6 days including last weekend. Excluding the flight, I actually only had 5 days of real fun. The schedule is quite full. The planned itinerary is: go to the airport after work, fly to Vegas at night, and sleep.
Day 1: Wake up naturally, visit hotels on the strip, eat Hell's Kitchen for lunch, and watch David Copperfield's magic at night.
Day 2: Check out in the morning, rent a car, drive to the Hufu Dam to take pictures, take Route 66 through Kingman and Seligman, and finally drive to the small town of Williams, sleep.
Day 3: Depart for the Grand , play until the afternoon, drive to the page, and sleep.
Day 4: Book a boat tour at 8:00 in the morning, watch the Antelope Canyon on the boat, and go to eat after watching Mexico Food, and set the Lower Antelope Canyon at 12 o'clock, after watching it, I went to kanab and went to sleep.
Day 5: Depart for Zion National Park in the morning, drive back to Vegas after playing, eat fish and chips, go shopping, and sleep.
Return the car and fly back to Toronto .
I took the plane to depart at 8:55 in the evening, but it was delayed for an hour and a half (excuse me), and it was already late when I arrived in Vegas. I planned to take Uber to the hotel, but when I got out of the airport, I saw a supershuttle pavilion (it looked very Formal appearance), after asking, buy a ticket first, tell him the hotel you live in, and then wait at the stop sign at the door, every time the train departs, it will stop along the road and go to the hotel where the guest is going, the fare is 11 USD per person. We were late at the time, so there were only the two of us, which was equivalent to a chartered car, and we went straight to the hotel. The location of the room is very good. When you open the curtains, you will see the Ferris wheel of LINQ next door.
Day 1: A day of playing, shopping and eating in Vegas
Vegas hotels are really cheap! ! ! The basic room rate is about 35-40 US dollars per night, and then you have to pay a resort fee of about 40 US dollars, plus tax. Such a night is around 100 US dollars, which is really cheap. Many hotels on the strip are at this price. Each hotel has casinos, restaurants (many, many), bars, coffee shops, shopping malls, and swimming pools. , theatres, nightclubs, etc. When I was choosing a hotel, I read this article. The hotel does not make money from room fees at all, there is always a chance for you to spend money. The hotel we stayed in was the Flamingo Hotel, which featured its flamingos (really)."
There are flamingos (really) to watch in the hotel, and every once in a while a breeder (?) will explain while feeding things, and you can also ask him questions. The glass behind is a cafeteria, where you can watch flamingos while eating. This restaurant is very popular and there is always a queue.
Because I wanted to visit every hotel, I walked the whole way, and it was quite a long walk, and the sun was shining on the road, so I applied a lot of sunscreen. If you don't want to go, you can also take the bus, 6 yuan for 2 hours, 8 yuan for 24 hours, and it will stop at the hotel entrance.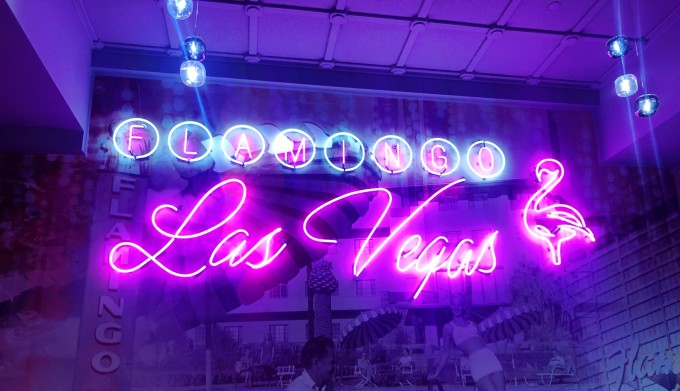 I did my homework online in advance. MGM Hotel has a package for 57 yuan to play 3 items, which is valid within 7 days, but you must decide which 3 items to buy when you buy tickets. I recommend the Titanic exhibition in luxor, and the one in MGM. CSI experience (if you like detectives), we chose the other 4D movie, which is not very recommended, if you are brave, you can choose a roller coaster. Please keep the ticket well, if it will take a few days to use it. Refer to the official website.
MGM does not have a particularly big feature in appearance, but it is big! luxurious! Central location! One of the most popular shows, David Copperfield's magic, is staged here, and there are huge advertisements outside the hotel. In fact, every hotel basically has a theater, where various shows are staged.
Excalibur Hotel, the whole shape is like a castle. The door handle inside is like a castle. The restaurant and show are related to armor and knights. I really like this kind of themed hotel. In fact, every hotel is like this, including the Caesars Palace Hotel, which is in the shape of a Roman palace, the door handle of the Venetian.
Lunch (actually already at 3 pm) is scheduled for Hell's Kitchen. It is recommended to make an appointment. If you don't make an appointment, you will have to queue. There are about 5 restaurants with his name in Vegas. I watched the reality show of Hell's Kitchen when I was a child, and I didn't know until I went in that 2018 was already the 18th season. This dining experience was the best of the whole trip! totally worth the trip! At the door is a 1:1 welcome video of Gordon Ramsey, and then there is a photo wall of the 18-season champion. The leading lady has a very good attitude and will ask you if it is your first time to eat. It turns out that if I stay for a few more days, or come to play next time, I will definitely come to eat again. We said it was the first time, and then she would introduce us that there is an open kitchen here, and many dishes have appeared in the show.
I ordered the Hell's kitchen burger. In fact, the environment and service are very high-end restaurants, but the price is not bad. This burger + French fries is only 23 dollars. This one is also super delicious, a little spicy, the more you eat it, the better it tastes. It's a bit poor for words, you can only know it by eating it yourself.
In the end, I ordered a dessert called strawberry shortcake. My God, I was so surprised. When it was served, I was shocked. Is it such a big plate? The waiter said, get your phone/camera ready, and then "Wow~", the smoke filled the room, and everyone in the room looked at my dessert, it was so cool.
If you are full, you will rest in the hotel for a while. Then we went to see David Copperfield's Conjuring at night. Book tickets online in advance. If you have enough budget, try to buy tickets earlier. The probability of being called to interact is still very high. Even if you are not invited to the stage, he will be very close to you. When we bought the tickets, the 10th row was only about 20 yuan more expensive than the cheapest ticket. He is right in front of us, within reach.
Blood lesson, don't be late! Because before the opening, a mailbox will be left on the big screen, and then you send him an email, and he will send you an email at the very beginning, and this email will tell you what will happen in the next 2 hours.
Photography and photography are not allowed during the performance, and mobile phone cameras must be placed in a box on the table. The whole performance is really wonderful, and I am at a loss for words, so please go and watch it. I am deeply impressed by his interaction method, charisma, stage performance, and mastery of rhythm.
After watching the magic, walk back to the hotel, much cooler at night without the sun. Passing by Hell's Kitchen, it even breathed fire, just like on TV!
The volcanic eruption at the entrance of The mirage starts at 8, 9, 10, and 11 every night, free of charge.
The fountain at the entrance of Bellagio has been available since the afternoon, and it is also free.
Day 2: Road trip begins
The next morning, I checked out and went downstairs to have breakfast (I don't know why I ate Mexican breakfast again). There were a lot of sauces. It was delicious at first, but when I was late, I felt too salty and greasy. Still reminiscing about the Hell's Kitchen I ate yesterday.
I took an uber at the entrance of the hotel to the airport car rental center, because each hotel is too big and has several doors, so the hotel has a dedicated Uber pick up point. Let's go after renting a car! The first stop is Khufu Dam. In fact, it's just passing by. I just checked my phone and there are no photos. If you just want to take a look like me, don't drive into the official designated parking lot (10 yuan), and keep driving. There are small hills, and there are many hills. Temporary parking spaces are free, and most of them are tourists who get out of the car to take a photo and leave. We did the same.
Continue to drive until we arrive at Kingman . In fact, this place is also a small town for taking pictures. We were quite full, so we didn't stop to eat. However, this restaurant has good reviews and is very suitable for taking pictures. , a typical American restaurant.
After taking the photos, we continued to drive. I heard that there is a small town called Seligman on Route 66. We are going to have a look. The original plan was to take Route 66, but following the navigation, I was already on I-40 when I realized it. . . So we don't know what's on Route 66. All we saw were deserts and big rocks (gray, black, yellow, red) all the way. In short, it was barren and spectacular. When I drove to Seligman, I felt that it was different from what we had imagined. Maybe I didn't go to the right place. I was very tired at the time, so I drove directly to the small town of Williams.
Williams is a relatively big town. DT is basically a hotel and a restaurant, but there are some decent ones. We didn't take a closer look because it's just a place to rest. Where we live, there is a supermarket across the road. We went to buy some salad (because eating too much meat made us feel uncomfortable), yogurt, fruit, breakfast, and we were happy. Today's mission is done! sleep.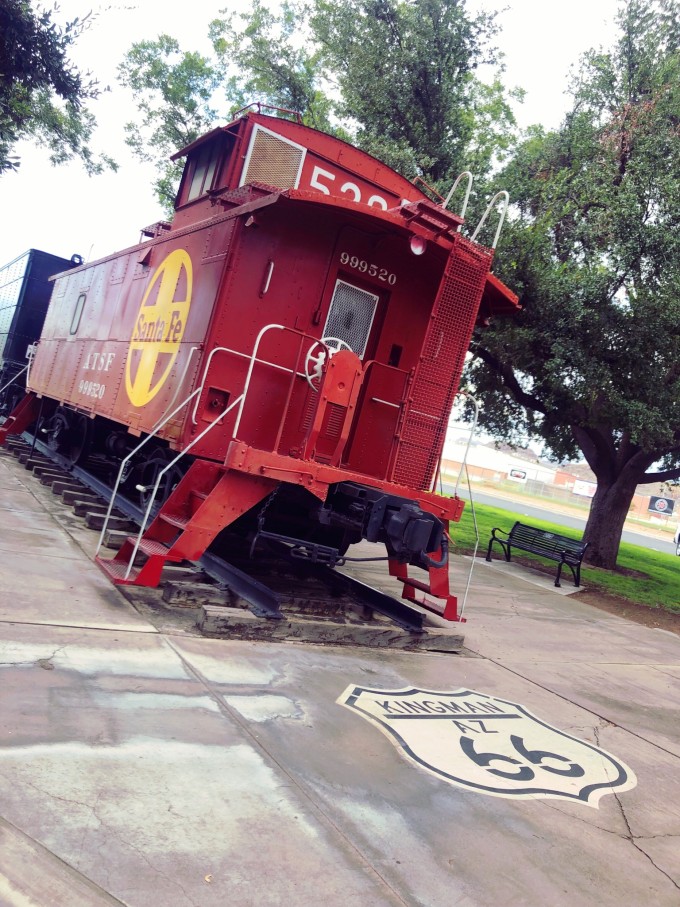 Day 3: Grand Canyon National Park
Williams drove to Grand Canyon National Park Another hour. The signs on the road are very clear, even if you don't have navigation, you can drive there. The entrance fee is 35 yuan/car. Yes, the fee is charged by car. Then you will be given a receipt and pasted on the inner glass, and a map will be sent to you. There are Chinese ones. After paying the money, continue to drive forward until you arrive at the parking lot. There are several of them. Remember the number of parking lots you park at. There will be no parking spaces, but it will be farther away. I didn't do a lot of homework on the Grand Canyon at the time. The itinerary here was all based on the map given at the door, and all the information was on it. It is really a very mature national park. The transportation in the park is composed of several colored shuttle buses, all of which are free, every 10-15 minutes, and you can get on and off at will. If you have time, you can take each of them. We didn't take the east route because time is limited, but when we finally drove away, we took the east side, so we actually stopped for a while to look at the tower, so friends who left from the east side We don't have to spend time taking the bus going east on the orange line, because we have to go back in the end. For plans with limited time, you can choose to sit at a few points. The two points near Mather point and yavapai point (orange line) are the most visited. There is a museum in yavapai. I am interested in knowing how this terrain was formed. You can find out. From the visitor center to the blue line of the village, take a walk on the rim trail, the scenery is really beautiful and spectacular. We also passed by an ice cream shop and bought a canyon crunch flavored ice cream, which was quite special. In the village, you can change to the red line to go further west. This line is quite far, and you can skip it due to limited time. My favorite point is Powell, which is quite special. The scenery angles that can be seen at other points are similar.
Photos can't capture one-tenth of the magnificence, and it must be seen with your own eyes to be shocking.
Sit back to the visitor center to get the car, drive east, pass some points, we stopped at the tower, climbed to the highest floor overlooking the Grand Canyon, and said goodbye to it. Drive to page. The time will change, it is recommended to check the time with the hotel front desk. Since we spent more time in the Grand Canyon than planned, it was already 9 pm when we arrived at the page. It was scary to drive for about an hour at night. If you don't want to drive at night, you can stay in the Grand Canyon for one more day before going the next day, or approach the Grand Canyon earlier in the morning and leave earlier.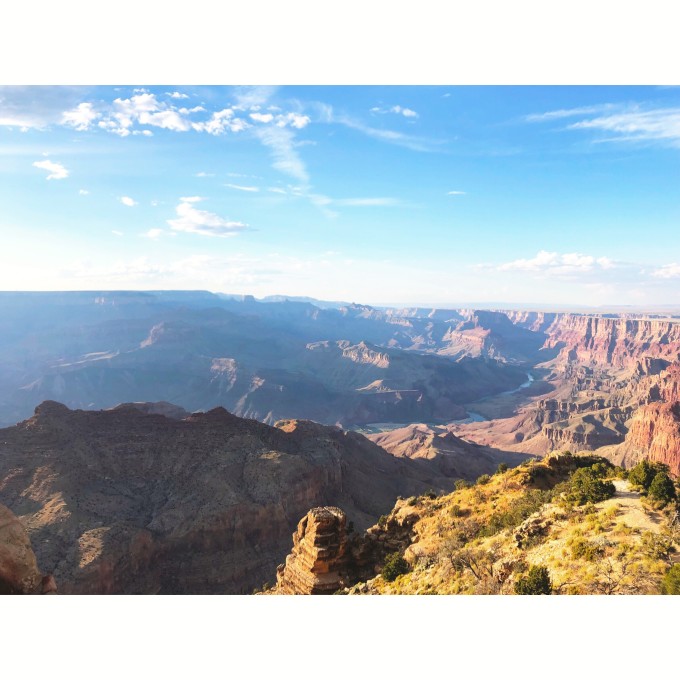 Day 4: Antelope Canyon and Horseshoe Bend
The Antelope Canyon package booked online several months in advance, the boat tour at 8 am and the Lower Antelope Canyon at 12 noon. In fact, I read quite a lot on the Internet, such as which one is more fun, the Upper Antelope Canyon or the Lower Antelope Canyon, and what time is the best. If you have time and budget, you can play both. The best time is 11 o'clock, and you will compare more expensive. We chose Lower Antelope Canyon because. . . The two of us are probably older and don't like too many people. I heard that there are fewer people in the Lower Antelope Canyon, and we all like to take a boat. It happens to have a combo with the Lower Antelope Canyon, so we ordered this, the price is about 220 US dollars 2 Personally, print out the ticket. Overall I am very satisfied! Very few people come to Antelope Canyon to take a boat tour, but in fact, looking at Antelope Canyon from this perspective is also unique. In the morning, we were afraid that we would not be able to find the pier, so we arrived early, but later found out that it was too early and everyone was late. . . Except for the Germans , we are more The Germans arrived early, with proud faces. When you arrive, go to the gift shop at the door to report, and then you will get a stamp, and then go down to the pier. If you are lucky, the staff will drive you down in a car, otherwise, just go down. Then we set off. The whole trip will take about one and a half hours. The staff on board are enthusiastic and humorous, and there will be a "tour guide" to explain to you. After driving into the canyon, the speed is very slow, which is very suitable for taking pictures, taking videos, or just enjoying it quietly. There are also many people rowing in the canyon, because we are at 8 o'clock in the morning, so people are okay, the tour guide said that the river is full of boats at noon and afternoon. Again, this photo can't capture one-tenth of the beauty at all.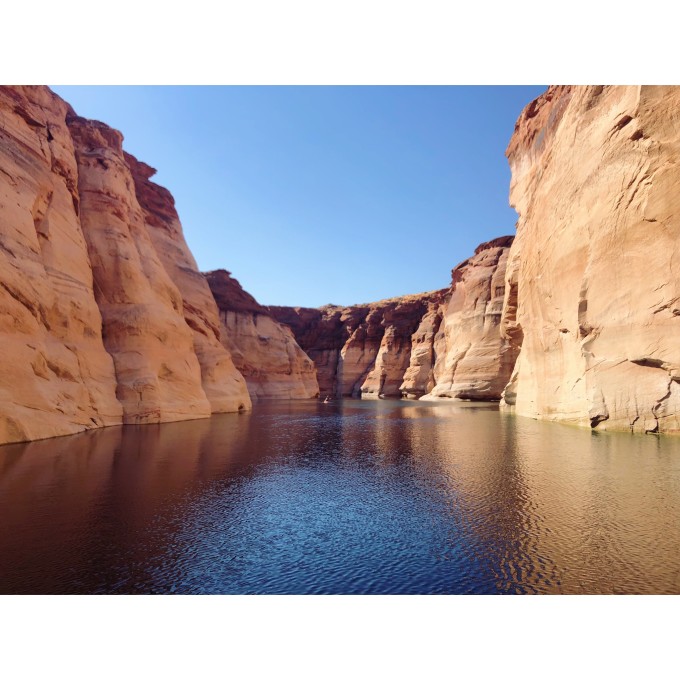 Go back to page for lunch. . . . Yes, it's Mexican food again, but it's really delicious. There are quite a lot of restaurants on the page, and many of them have good reviews. After eating, drive to the Lower Antelope Canyon to check in. A group number will be written on your receipt. You can't bring bags, only cameras, mobile phones, and water. Then wait in the lobby and find your group when the time is up. There are 10 people in a group, and then go to Antelope Canyon in line. It's really hot, so be sure to apply thick sunscreen! For safety's sake, don't take pictures when you go down the stairs. Next, you can take pictures for an hour. The tour guide is very good! He knows what position, angle and filter to take the most beautiful photos! And it will help you take pictures!
Because we didn't go to the Upper Antelope Canyon, I don't know how it is there. The experience of the Lower Antelope Canyon is not bad. Although there are many people, the distance between the group and the group is kept, so it is completely possible to take single photos and the like, not to shoot. to the entry of passers-by.
As always, Antelope Canyon is 100 times more beautiful in person than in photos.
After playing Antelope Canyon, we went to Horseshoe Bay, not far away, follow the sign and you won't miss it. The parking lot is 10 yuan. When we arrived, it was the hottest time in the afternoon, so be sure to apply sunscreen thickly! Bring enough water! Very important. It takes about 20 minutes one way to walk from the parking lot to Horseshoe Bay, and there are uphill and downhill roads, plus the time for taking pictures, you need to stay outside for at least 1 hour. On the way back, many people were resting on the side of the road and needed to take a break. This attraction is very unsuitable for families with buggies.
When we arrived at Horseshoe Bay, we saw the scenery in front of us and thought it was worth walking so much. Breathtakingly spectacular! I was afraid to take pictures while standing on guardrails. There are also a lot of tourists taking pictures on the stones without guardrails, those standing, sitting with their legs swinging outside, those lying on the imperial concubine, and those sitting in yoga poses, all taking pictures with their lives. Photos can't capture how big this bay is, so be sure to see it for yourself.
The place where I was sitting actually had a lot of space in front of it, and I didn't dare to go any further, so I crawled back after taking this picture.
After returning from Horseshoe Bay, we set off for the next stop, Kanab. Because I got up early this morning, I went back to the hotel early to rest. Recommend the red canyon cabins we live in kanab. Each suite is a separate small house, and the car is parked in front of our house. We like it very much. Kanab is actually the place where the wave draws lots, if
If you plan to go to the wave, you can stay here for a few more days, because we have limited time, we only stay for one day. But I saw the photo of the wave on ig, it is so beautiful, it must be a regret that I have to come back after many years. sleep.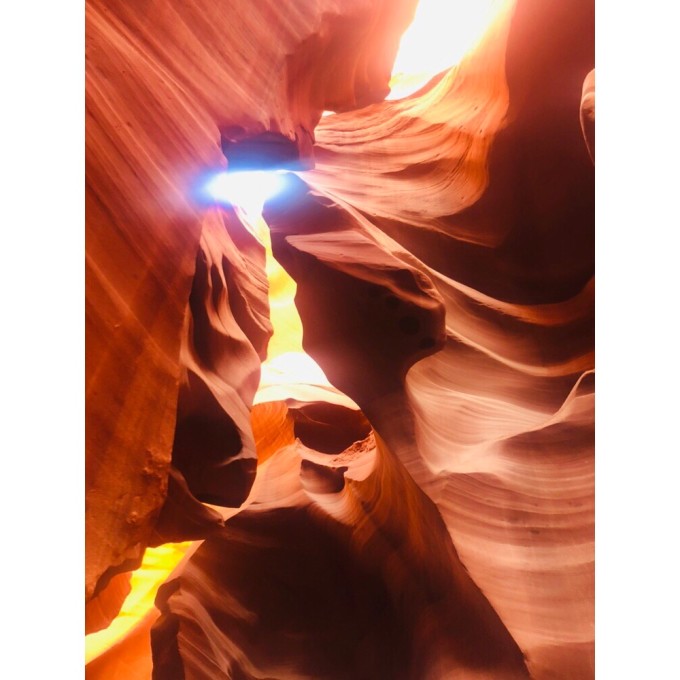 Day 5: Back to Vegas to continue playing, shopping and eating
Get up in the morning, pack up and go to zion national park, the same as the Grand Canyon Park, the ticket is 35/car, follow the signs. There are no parking spaces in the park, so you have to drive through the park to the next city called Springdale to park (the parking fee is about 5 yuan?), and then take the free shuttle bus into the park. The park is full of winding mountain roads, as shown in the figure below. . . I was trembling as I drove on. . . There are some temporary parking lots on both sides, and many people will stop to take pictures or walk around, so be sure to pay attention to safety and drive slowly. This park has a different style from the Grand Canyon. You are very close to those big mountains and rocks, and you can see the shadows of clouds on the mountains.
We are almost drive thru zion, I am exhausted from driving, we all feel that it is worthwhile to drive such a mountain road to enjoy such a beautiful scenery. And it was extremely hot that day, and the temperature soared to 99 degrees on the way back. If you have time, be sure to take a stroll. Up to now, I still regret not staying there for a while.
Back to Vegas, this time it will take 3 hours, and there are still various stones on the road. It was too hot, even sitting in the car with the air conditioner on. When driving into Vegas, there is a feeling of a countryman entering the city, returning from the primitive world to the prosperous world of paradise.
After eating burgers , we all wanted to have a Chinese meal. We searched for this restaurant in Chengdu reviews. We ordered boiled live fish and hot fat intestines. To be honest, the price is a bit expensive, but the servings are quite large, and, really, delicious.
After we were full, we drove to the hotel to check in. On the last day, we booked Luxor, which looks like a sphinx at the entrance of the pyramid. The style of the whole hotel is also in the style of ancient Egypt . Because we drove this time, we bought a parking ticket at check-in, but we didn't expect that this parking ticket can be used in all MGM hotel parking lots. You can enter and exit as you like, just swipe your room card. So we drove to the mirage at night to see the eruption, otherwise it would take half an hour to walk there. I was too tired to walk on the first day.
The 3 projects I bought before cost 57 yuan, and the tickets are valid for one week. We still haven't seen the Titanic exhibition, which is in Luxor. I highly recommend this exhibition. It is immersive and real. You will be given a ticket when you enter the venue. The name on the ticket is the name of a real passenger. At the end, you can go to the list to find you and be rescued. Still died unfortunately. I won't spoil the details, in short, it allows you to re-experience the before and after of the shipwreck. The most shocking thing is that there is a wreck of a sunken ship that has been picked up and placed in the exhibition hall. It seems to have traveled to more than a hundred years ago.
I was hungry after watching the exhibition, so I went to eat Gordon Ramsey's fish and chips. The whole shop is decorated in a very British style. The price is not too expensive, one serving is enough to fill you up. This is one of the best fish and chips I've ever had! I think all the fish and chips I've had before have been fake. Obviously the fish he used was different, very tender.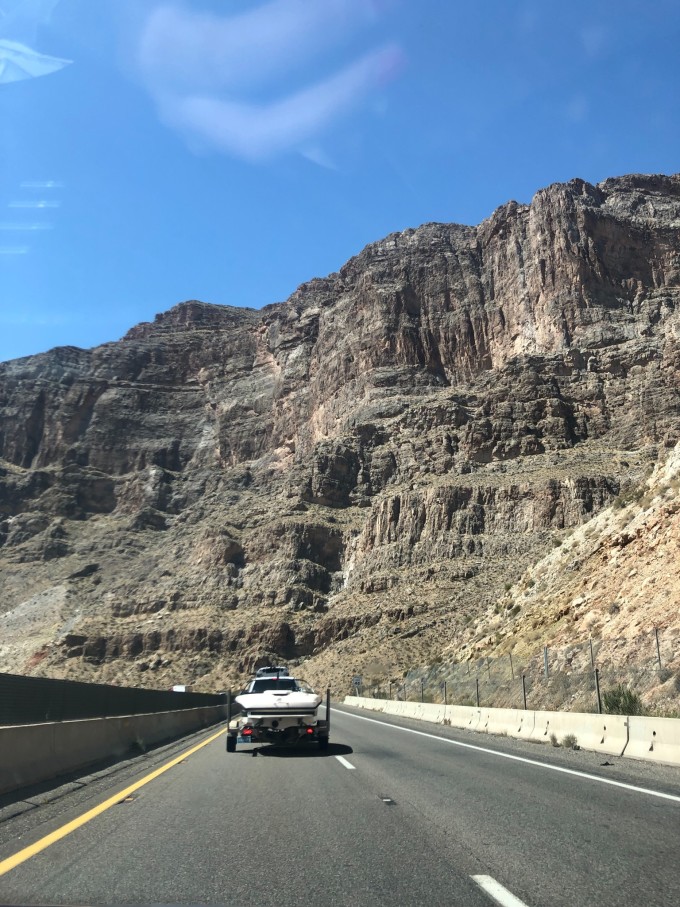 Eating fried fish at night was too sinful, we walked around the neighborhood again, pretended to ourselves that we had exercised, and then went back to sleep. The last day in Vegas was very fulfilling!
final words
We checked out and returned the car the next morning and went to the airport back to Toronto . I was so sad, I just didn't want to go back to work. Overall, I am very satisfied with this trip. Vegas is a place where you can go many times, because there is no way to get enough of it all at once! Later, I went back and chatted with my colleague. He said that his sister would go to Vegas twice a year. During this trip, it seems that I have silently remembered what to play next time. So will definitely go again. The surrounding national parks all belong to the No Regrets series. If we have time, we still want to drive to Salt Lake City and Yellowstone , to Los Angeles . Ah ~ too many places to go, go back to work and save money. Finally, my writing style is not very good. I write this as a practical travel note. I hope it can help everyone who is doing their homework. It can be regarded as a record for yourself.