Capilano Suspension Bridge and Park, Canada is the most famous tourist destination in North Vancouver and the oldest tourist attraction in Vancouver. In the late 19th century, George. Gran, A. Mackey found the scenic location and settled here with his wife. Later, they were helped by local Indian natives on bridge building. Initially, they used coarse hemp rope and incense board wood as building materials, and rebuilt it again in 1914, adding concrete to consolidate both ends. Hanging bridge park is mainly Kapano hanging bridge, and there are many small hanging Bridges, plus towering ancient trees, together constitute the park's forest maze.
Capliano Suspension Bridge Park is named after the Carapino Suspension Bridge, under which is the Carapino River Valley. The park is full of maze Bridges, as well as cable-stayed Bridges and glass viewing platforms to challenge the limits of visitors' hearts. The totem pole and souvenir shop are a recreation area that forms the beauty of the drawbridge park.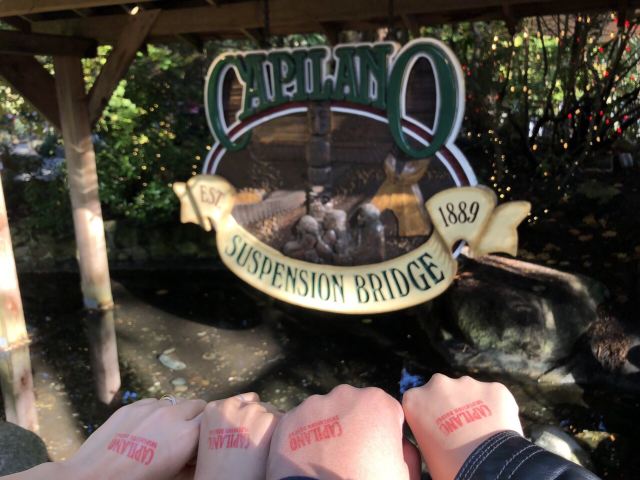 Suspension Bridge
Capilano Suspension Bridge was built in 1889,450 feet (137 meters) long and 230 feet (70 meters) above the Kapano River.
Cliffwalk
A novel outdoor event in Capilano Suspension Bridge Park, Vancouver, which opened on June 3,2011 and has become one of Canada's iconic experiences. This refreshing cliff trip will take you through the rainforest vegetation, stretching from the granite cliffs above the Caprano River down to the previously undeveloped areas of the park.
Treetops Adventure
The Treetop Expedition is seven suspension bridges connecting eight 250-year-old Douglas fir trees. Built in 2004, designed not to affect the normal growth of trees. The viewing platform is connected to a new tree-collar system that is adjustable and removable, without any nails or bolts penetrating the 8 Douglas-firs.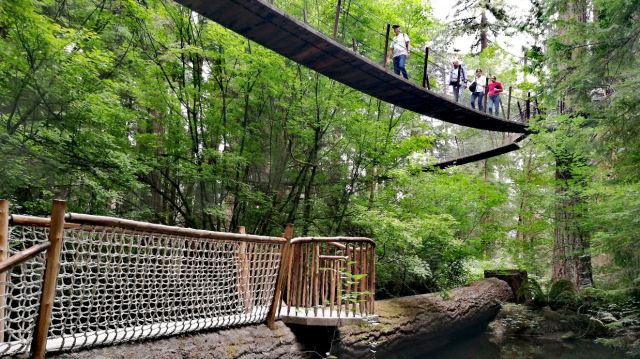 We went to Vancouver at the end of July. The climate is very cool. Capilano Suspension Bridge Park is the only park in Vancouver to charge for it. The index map is very convenient in the Chinese and English versions. The whole park is a suspension bridge built between the trees on both sides of the forest canyon. Add more fun to it. The air is fresh and the cultural environment is good, which is highly recommended.