The Capilano Suspension Bridge , located in north Vancouver, Canada, supported by a steel bar built semicircular suspension bridge, built on the granite cliffs, like hanging over carpirano river "air corridor", also has a glass viewing platform, known as "the world's greatest bridge", is a famous scenic spot in northern Vancouver, Canada. The bridge is 450 feet long and has been suspended from the valley 230 feet from more than 100 years ago.
This is the symbol of our city, is the most beautiful scenery scenic area, ticket is not expensive, regularly there will be theme activities, can arrange and family and friends to play, to take pictures oh ~ we have been to a long time ago, very interesting a suspension bridge, walk on it really feel rickety, here is a rapid river, the surrounding environment protection is very well.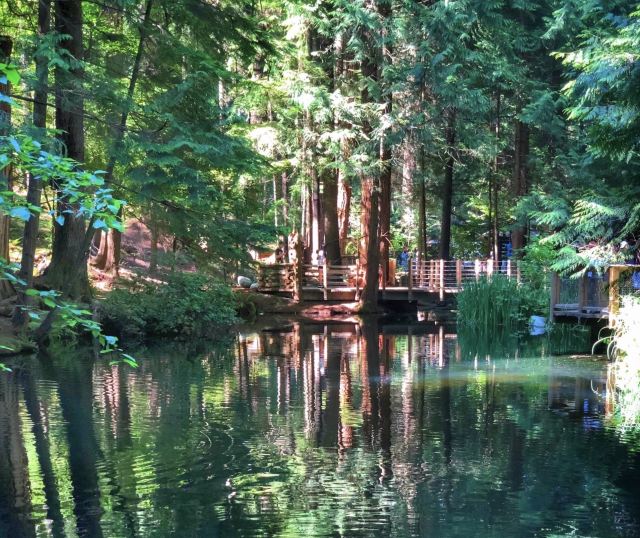 People walk on the Capirano drawbridge, and the deep canyon under the foot of the plank only, full of novelty, and with a trace of dangerous excitement. In some places, there is also an extended bridge deck, at the foot is only a steel frame support, transparent glass air viewing platform, standing above to look down, it is even more "frightening". The unique ridge path is high and narrow, but it can allow visitors to enjoy the rare strange scenery, deeply loved by the pursuit of exciting tourists love.
Capilano Suspension Bridge spans towering evergreen trees, cedar rainforest and tree top adventures, with 7 drawbridges for viewing views of 110 feet above the forest ground. In addition to the 137-and 70-meter-high Capano drawbridge on both sides of the park, the park has the world's largest collection of private Aboriginal totems and a rainforest!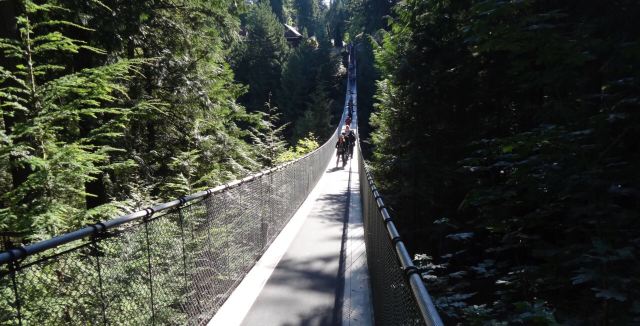 If there is a fear of heights, please do not go to ha, every step of the high-altitude suspension bridge to shake a few times all with a healthy spirit to walk in the past. Because there are many tourists across the bridge, the suspension bridge is narrow, if you want to take photos must seize the time to not back and forth concave shape (do not expect the background no one that does not exist), do not affect the tourists through, do a quality tourist ha.
Because you have to walk up and down all kinds of tree houses, size suspension bridge, etc., so it is necessary to wear comfortable flat shoes and sneakers, try not to wear a long skirt (I regret dead, climbing super is not convenient) and bring a bottle of water to do timely supply. There are snacks in the park, the price is not cheap, but the super long hot dog tastes really good yo.